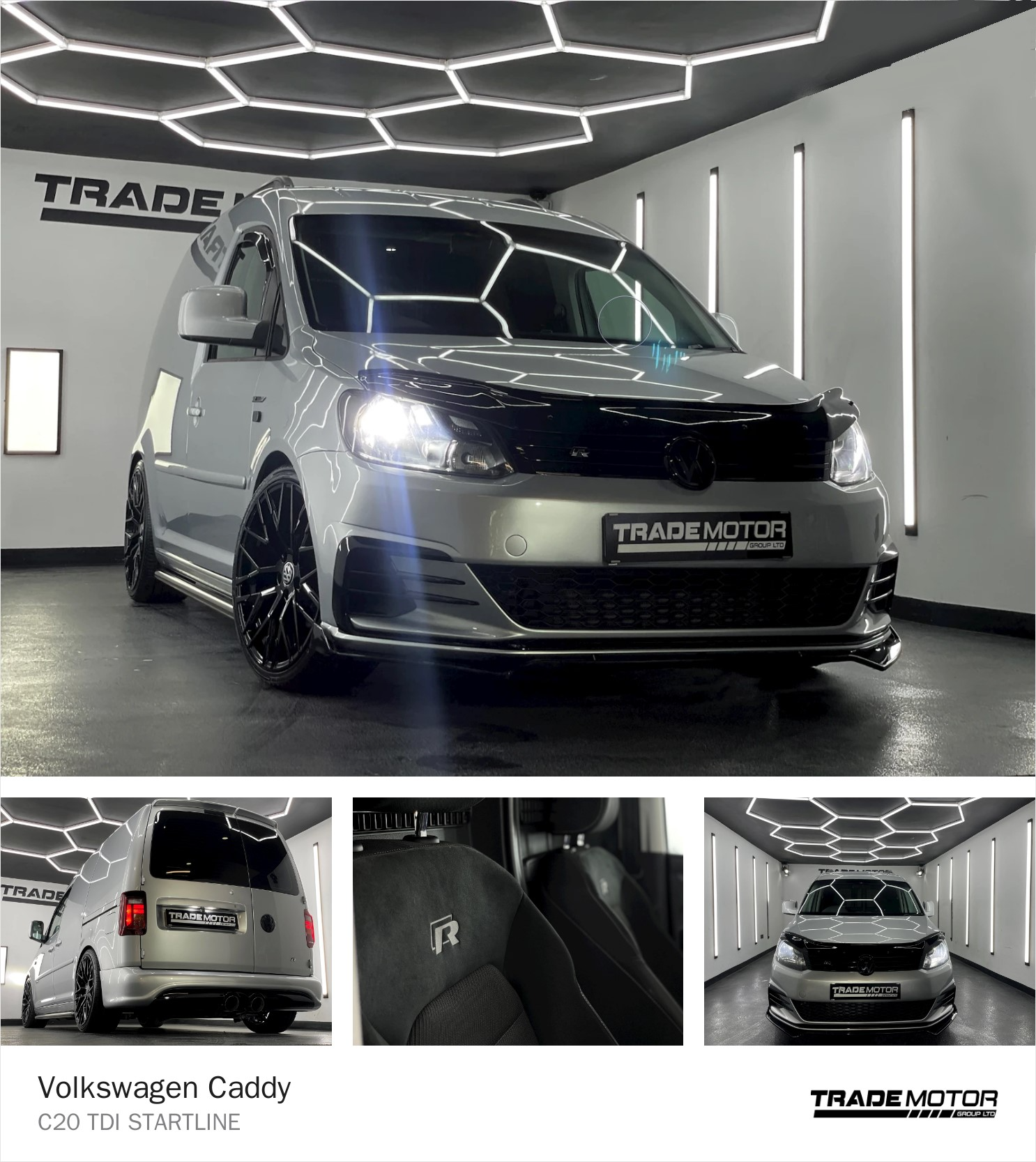 TMG CUSTOM VANS
We transform vans inside and out, creating one-off builds that turn heads. VW Transporter T5 and T6's, Caddy vans and Fords are our specialities.
Trade Motor Group 'TMG' is a new and used custom van specialist. 90% of our conversions are on the VW Caddy and VW Transporter, where we tune cosmetically and mechanically to create the best custom vans you will ever own.
Our custom conversions include everything from body kits and xenon headlight upgrades to interior fit-outs with seats, carpeting and fridges.
Our intention with all van conversions is to create a finished product that wouldn't look out of place on the marque's manufacturing line. Our commitment to quality ensures that all custom vans look as good as they drive and vice versa.
Full and partial strip outs
Xenon headlight upgrades
Stereo upgrades
Dynamic indicators
Carpeting and linings
Coilovers and lowering springs
Stiffening braces
Body kits (OEM and OEM+) custom on request
Full-colour changes
Partial colour changes
Window tints and graphics
Campervan conversions
Rear seat conversions
What You Get With a custom van from TMG, you get a high-quality modified van that uses OEM and OEM+ parts to stay true to the original marque.
We don't use cheap parts and cheap third-party products because the quality and style are questionable. We only use third-party products when they are verified by the marque community, such as front splitters that are acknowledged for quality.
By focusing on quality over price when modifying vans, we offer what we believe are the best custom vans money can buy.
Quality Guarantee
We customise and sell customised vans and commercial vehicles, carrying out all conversions to the highest standards. We ensure the highest quality conversions in several ways. Firstly, our use of OEM parts and OEM+ modifications ensure the highest-quality conversions. Secondly, we only buy high-quality used vehicles that have never been written off.
All the custom vans we sell are road legal with an MOT certificate. In addition to cosmetic work, all vans undergo mechanical and electrical checks. We sell custom vans that drive as well as they look, so all your journeys are a pleasure.
What Are OEM And OEM+?
OEM is an abbreviation of 'Original Equipment Manufacturer'. In the van world, it refers to the original producer of the vehicle's components. So, for example, the engine cover that comes with a 2.0 TDI van is the OEM engine cover. OEM+ (or OEM Plus) refers to modifications made to a van comprised of parts made by the Original Equipment Manufacturer, but not for that exact model. For example, VW Golf GTI seats in a VW Caddy are OEM+. OEM+ is not to be confused with third-party.
Companies make third-party parts with no relationship to the original manufacturer. That isn't to say they are low-quality, but it does mean they are not original components.
Finance Your Custom Van

Buying a custom van outright isn't always the best use of cash. We can help you spread the cost of your purchase with a Hire Purchase agreement (with full ownership at the end) or with a PCP (with a balloon payment at the end). Most of our customers go for a Hire Purchase because they can claim tax deductions for the interest charges arising under the agreement, as well as capital allowances on the purchase price, making it a tax-efficient acquisition model. If you want to hand your van back and pay less, a PCP will be a better choice. We work with various lenders to get you the best rates every time.
Custom Van Warranty
Your custom van will have a 3-month warranty which you can extend to 12-months. Warrantywise provides our warranties. We have worked with Warrantywise for several years and trust them fully to provide an excellent service. What this means is if you experience any problems with your van that are covered under warranty, This is all part of our commitment to excellent customer care. We want your custom van ownership experience to be as seamless as buying from a main dealer.
Please feel free to check our reviews https://uk.trustpilot.com/review/trademotorgroup.co.uk